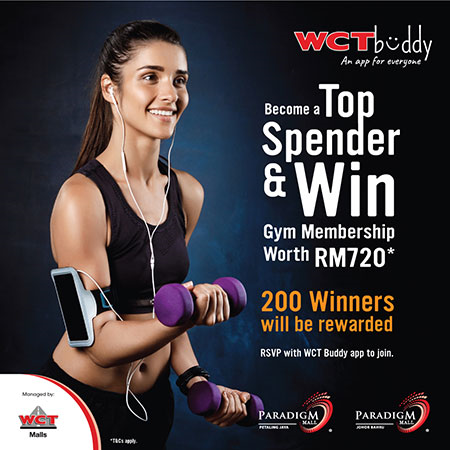 Buddy Top Spenders Reward
Event Details
12 May – 12 July 2023
10AM - 10PM
Calling all shopaholics and fitness enthusiasts! Are you ready to flex your spending power and get fit at the same time? Here's your chance! Become our top spender and win a FREE 4-months gym membership worth RM720! Start uploading your receipts in WCT Buddy Apps and aim high to reach the top spot. You might just be our lucky winner!
Location
Paradigm Mall, Petaling Jaya
Terms & Conditions
Terms and Conditions
Eligible Shoppers must log into WCT Buddy App and click on the RSVP button in the "WCT Buddy Top Spender Reward" event page via the app to enroll for the contest.
Vouchers can be accumulated and used at Fitness First PMPJ & Celebrity Fitness PMJB only. Each voucher is based on the value of 4 months package by Fitness First & Celebrity Fitness, per shopper.
All vouchers are issued on 1st August 2023 and valid until 30th December 2023 only.
The vouchers are non-transferable and exchangeable for cash or other premiums /vouchers.
The vouchers received are bound by Fitness First's & Celebrity Fitness's terms and conditions.
The top 111 shoppers from each mall will be notified through email / call and required to collect their membership at the Concierge of PMPJ & PMJB based on the stipulated timeframe.
WCT Malls reserves the right to amend the terms and conditions without prior notice.