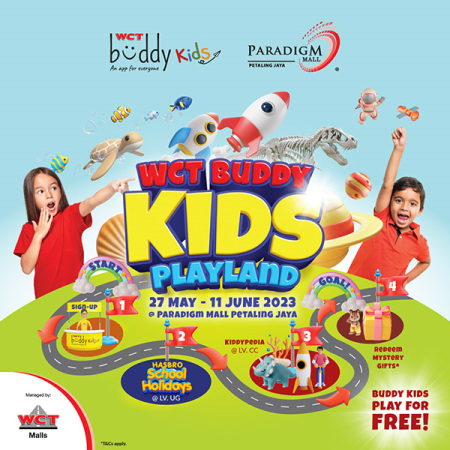 Event Details
28 May – 11 June 2023
10.00am – 10.00pm
Parents, it's time to create extraordinary memories for your little ones! Bring your kids to WCT Buddy Kids Playland, where imagination knows no limits. Join us for the Hasbro School Holidays event and experimental adventure with Kiddypedia at Paradigm Mall Petaling Jaya.
Hasbro School Holiday Event
📍Level UG, Upper Atrium
🤖 TRANSFORMERS: RISE OF THE BEAST
Check out the 2-metre-tall Optimus Prime statue and explore Transformers latest toy collection.
🔫 NERF ARENA
"Capture the flag" in a battle where kids and adults can work together in a 3v3 indoor war!
💰Monopoly Mania
Experience the joy of Monopoly with life-sized pieces!
🦄 My Little Pony Colouring
Snap pictures with My Little Pony on the rockstar photo set and enjoy the My Little Pony Colouring interaction area!
🌈 PLAY-DOH: SLIDE INTO PLAY-DOH WORLD!
Slide into the colourful world of Play-Doh world and mould endless creations!
🎨 HASBRO GAMING
Enjoy a game of Giant Jenga and Twister!
Explore Your World with Kiddypedia
📍Level CC, Concourse
🦖 Station 1 - Dinosaurs
🦈 Station 2 - Oceans
🚀 Station 3 - Space