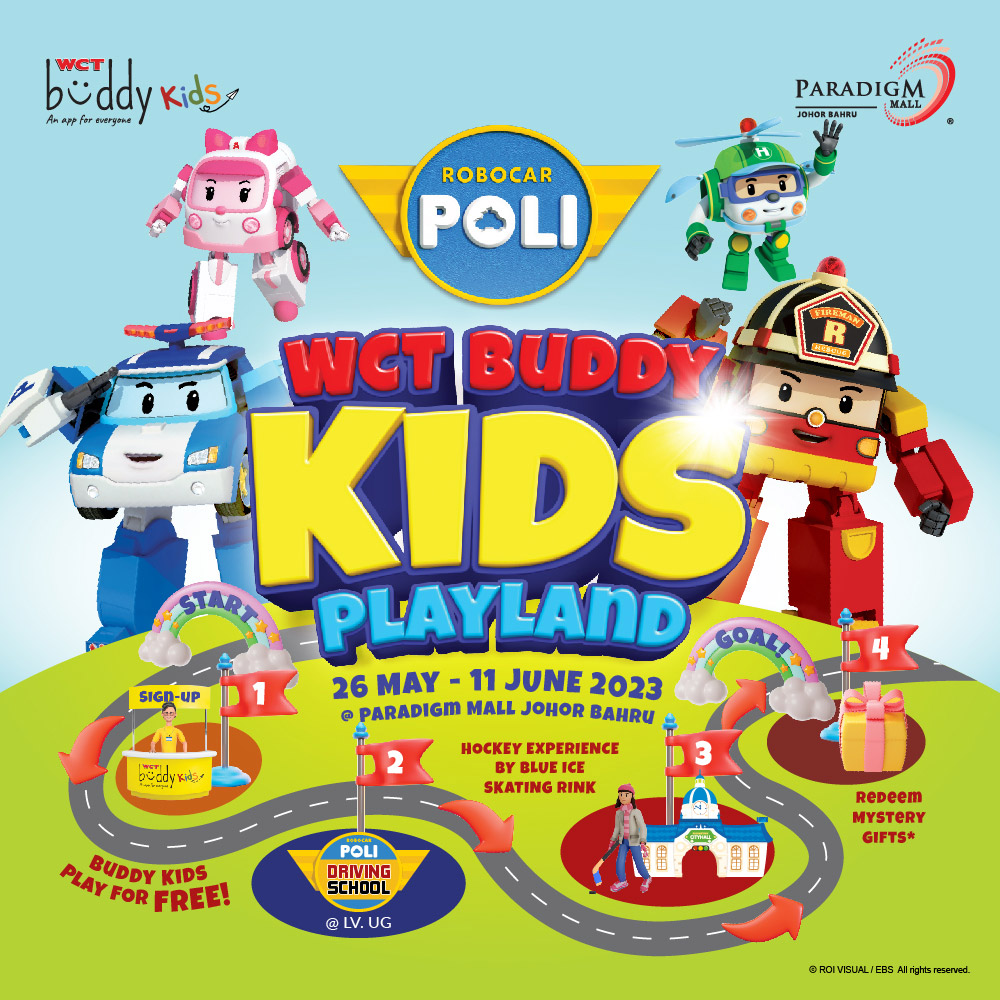 Event Details
26 May – 11 June 2023
10.00am – 10.00pm
Attention, young adventurers! Get ready for an incredible opportunity to join the WCT Buddy Kids and embark on a thrilling adventure at Paradigm Mall Johor Bahru! Sign up today and unlock a world of fun and excitement, all for free!
'Robocar POLI' Meet & Greet:
Prepare to be starstruck as you meet the courageous rescue team from 'Robocar POLI'! This meet and greet session promises to be an unforgettable experience. Get up close and personal with your favorite characters, including Poli & Roy. Don't forget to capture these special moments by snapping amazing photos with your newfound heroes!
Ice Skating Rink:
Step onto the glistening ice rink and let the adventure begin! Grab your friends and family and glide gracefully across the smooth surface. Feel the rush of excitement as you twirl, spin, and show off your best moves. Whether you're a seasoned skater or a beginner, the ice skating rink offers endless fun for everyone!
Colouring Contest:
Calling all budding artists! It's time to showcase your creative skills in the thrilling colouring contest. Unleash your imagination and bring your favorite characters to life through vibrant colors. Show off your artistic flair and compete with other talented participants. Get ready to impress everyone with your incredible talent!
Kiddies Ride:
Hold on tight and get ready for a thrilling adventure on the Kiddies Ride! Buckle up as you embark on an exhilarating journey filled with laughter and joy. Let your imagination run wild as you hop on the colorful rides and enjoy the exciting twists and turns. The Kiddies Ride promises to be an unforgettable experience for children of all ages!
So, what are you waiting for? Join us as WCT Buddy Kids and be part of this incredible event at Paradigm Mall Johor Bahru. Sign up now and get ready to create magical memories that will last a lifetime. Don't miss out on this chance to meet Robocar Poli, glide on the ice, showcase your artistic skills, and enjoy an adventure-filled kiddie ride. Get ready for an unforgettable experience like no other!