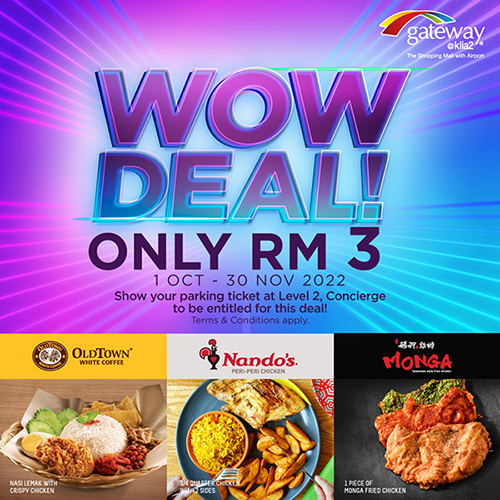 Oldtown, Nando's and Monga
Promotion Details
1 October - 30 November 2022
ATTENTION!!! We've got a series of WOW DEALs ready to WOW you starting from 1 October to 30 November 2022
From this Saturday onwards, any shoppers or travellers who park in gateway@klia2 will be entitled to redeem a nasi lemak with crispy chicken from Oldtown White Coffee with RM 3 ONLY instead of its original price of RM22.90.
Don't you feel tempted to have yours? Head over to gateway@klia2 and show your parking ticket at Level 2 Concierge Counter to redeem your WOW DEAL from us this Saturday!
Stay tuned to find out what is the next WOW DEAL in line too.
P/S: Each WOW deal is open for redemption in 2 weeks' time only, limited quantity available!
#WOWDeal #OldTownWhiteCoffee #NasiLemak #CrispyChicken
Terms & Conditions
Terms & Conditions:
No minimum spending is required.
Purchases must be made at Concierge Counter, Level 2.
Limited to 1 item per parking ticket.
Limited to visitors that use parking tickets only.
After purchased, customer service officer will stamp "redeemed" on your parking ticket.
This campaign is not applicable to all airport staff, WCT Malls staff & season parking pass holder.
Management reserves the rights to amend the terms & conditions and/or cancel this promotion at any time at its absolute discretion without prior notice.
First come first served other terms and conditions apply.