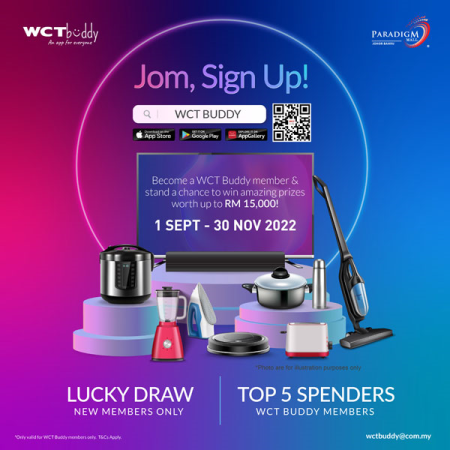 Promotion Details
1 September – 30 November 2022
WCT Buddy App – more than just an App
Jom, SIGN UP! Get rewarded for EVERYTHING that you do with WCT Buddy App. Stand a chance to win a 55' Samsung QLED TV‼️
Already a WCT Buddy App Member? WORRY NOT! This is your chance to spend KAW KAW at Paradigm Mall JB and win BIG Amazing Gifts!!
What are you waiting for? Download WCT Buddy App now to get rewarded with amazing prizes worth up to RM15,000!
Download WCT Buddy or stay tuned to our Paradigm Mall JB Facebook page to get the latest promo & newest info!
#ParadigmMallJB #WCTSignUpRewards #WCTBuddyMembers #LuckyDraw #TopSpender
Terms & Conditions
Terms & Conditions apply.